FAQ's
DONATIONS
Is my ride registration fee tax deductible?
No unfortunately the ride is not tax deductable as you receive something in return for your registration fee. Only donations are fully tax deductable.
Do people who support my ride by donating get a receipt?
Yes. A receipt will be sent to the email address provided when making an online donation.

Is there a minimum donation?
There is no minimum donation. All donations received by the Muscular Dystrophy NSW are gratefully accepted.
What is the fundraising cut-off date?
The cut-off date for the $500 minimum fundraising target to receive the official Big Red Ride Sydney 2017 cycling jersey is Thursday 1st September (unless otherwise arranged with the Head of Fundraising and Partnerships).
What if I don't reach the fundraising target of $500?
As soon as you register Louise Walpole Maher from MDNSW Fundraising will contact you to offer support and advice on how to reach your fundraising goal and will continue to work with you if required to help ensure you are able to reach the required target of $500. If you are worried Louise is always there to help you and give you ideas.
Is my donation tax deductible?
If you make a donation to your own fundraising goal any donations over $2.00 are deductible. A receipt will be sent to the email address provided when making a donation.
What do I do if I am given a cheque donation?
If you receive any cash donations or cheques that money can be added to your fundraising page total by clicking on the 'add an offline' donation on your fundraising page.
Cheques should be made payable to Muscular Dystrophy NSW and forwarded with the name and address of the donor (so a receipt can be issued) to:
Muscular Dystrophy NSW
PO Box 1365
Meadowbank NSW 2114
Remember to include your name and highlight that you are a participant in the Big Red Ride Sydney 2017 so the donation can be correctly accredited to your fundraising total.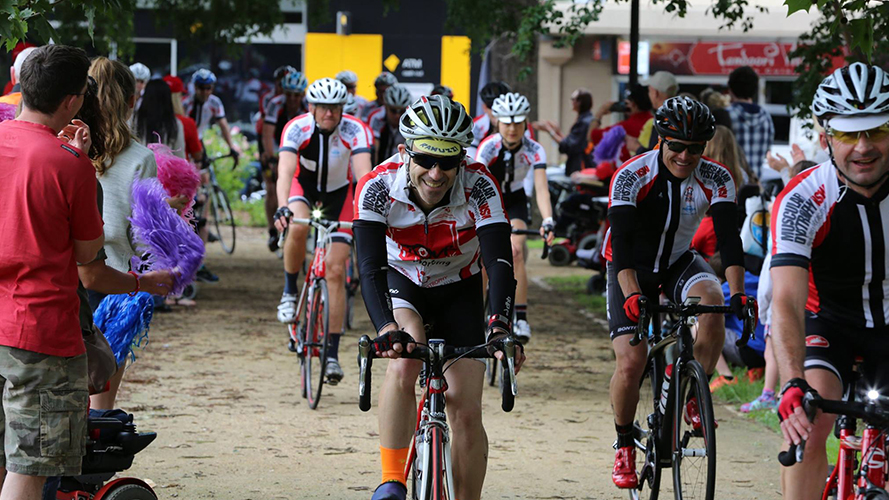 LOGISTICS
What sort of bike do I need?
A Road Bike that has received a recent service and is in good working order. Mountain bikes and hybrids are not suitable for this ride.
EVENT DAY
What do I need to bring with me on the day of the event?
A day pack containing your nutrition, spare tubes and equipment, spare clothing - arm warmers, rain jacket and personal items including any medications. If you are carrying any medication - please ensure you notify the driver of your support vehicle and point out your day pack to them. This day pack will be carried in the support vehicle that acts as a 'sag wagon' with your group.
What happens in the event of bad weather?
In the event of wet weather the event will still go ahead. It is only in extreme weather where cyclists are at extreme risk would the event be cancelled. This would be done on the morning of the event - and announced with everyone at the start briefing. If it is cancelled after the start of the event, this would be communicated between vehicles, between events managers and MDNSW. We will all have 2 way radios for communications.
What if I can't complete the ride?
All participants in the Big Red Ride Sydney 2017 will have the on-road support of an experienced crew. Participants who are unable to complete the full distance for any reason will receive the full support of the crew who will assist transporting the rider and bike to the finish line. There are no consequences for not completing the distance – the commitment, training and fundraising achievements of each rider are worthy enough of celebration.